~~~~~~~~~~~~~~~~~~~~~~~~~~~~~~~~~~~~~~~~~~~~~~~~
WMSPC Update
news and information from the West Michigan
Sustainable Purchasing Consortium
December 2009

~~~~~~~~~~~~~~~~~~~~~~~~~~~~~~~~~~~~~~~~~~~~~~~~
Dear Paula,
Season's Greetings and Happy Holidays!
We are pleased to announce that Quimby Walstrom recently cut WMSPC's pricing on 30% pcw copy paper, resulting in additional savings of about 5%! Please be sure to
log into your account
to review the papers and pricing offered by Quimby.
And don't forget that WMSPC now has an additional product category to offer you at discount pricing:
deicing chemicals
. With winter approaching, we hope you will consider purchasing products -- such as EcoSalt and Calcium Magnesium Acetate -- that reduce the release of chlorides into the environment.
Remember
: By taking advantage of WMSPC Master Services Agreements, you add to the purchasing power of the group, help drive the market for environmentally preferable products, and thereby help reduce negative environmental impacts in West Michigan. Please take a look at the Purchasing Power section to see how our purchases translate into environmental terms.
Lastly, please email
plevin@delta-institute.org
to share relevant events or other newsworthy items that should be added to wmspc.org and the next e-update. Or, if there's a product category you'd like to take the lead on with some help from us, get in touch.
Best,
Paula Levin
WMSPC Administrator
Delta Institute
plevin @ delta-institute.org
T: 312.554.0900x17 W:
www.wmspc.org
Transforming the Great Lakes region into the
vital center of an emerging green economy.
PRODUCT HIGHLIGHTS
~~~~~~~~~~~~~~~~~~~~~~~~~~~~~~~~~~~~~~~~~~~~~~~~
30% PCW Copy Paper

Quimby Walstrom recently cut WMSPC's pricing on 30% pcw copy paper, resulting in a savings of about 5%!
A carton of Husky Recycled Xerocopy paper costs
only
$32.45
!
Please be sure to
log into your account
to review the other papers and pricing offered by Quimby.
Environmentally Preferable Deicing Chemicals
WMSPC has awarded two vendors with Master Services Agreements for environmentally preferable granular deicing products.
Next week's website updates will include more detailed information about the products. In addition, members will be able to view consortium pricing by visiting www.wmspc.org and logging into their WMSPC account.
Cryotech's CMA
(Calcium Magnesium Acetate) is a chloride-free product used in large part to reduce the corrosive effects of chlorides on bridges, parking decks, and other capital-intensive infrastructure, as well as the 'burning' effects of chlorides on vegetation.
Wellspring Management's EcoSalt, GeoSalt
,
and Ice Ax are sodium chloride products blended with GEOMELT -- a sugar beet-based accelerator that improves the melting capabilities of salt, and thereby results in an overall salt usage reduction of 20-30%.
-----
Currently, all orders are priced for delivery direct from the vendors to WMSPC members. Because there may be smaller-volume purchasers that wish to take advantage of these environmentally preferable products, WMSPC is working with the vendors to find local re-sellers and distribution points.
So that WMSPC can gauge interest and aggregate potential small purchases, please email plevin@delta-institute.org if you are interested in procuring

less than

a pallet of these products. (Bags are 50 lbs each, and a pallet contains 48 bags.)
PURCHASING POWER - WMSPC'S Environmental Impacts
~~~~~~~~~~~~~~~~~~~~~~~~~~~~~~~~~~~~~~~~~~~~~~~~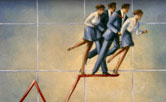 Between October 1, 2008 and December 22, 2009, WMSPC members have purchased over 138,000 lbs. of recycled content paper.
When compared to this quantity of virgin paper (using the
Neenah Paper calculator
), this translates to saving:
343,835 lbs. wood.

A total of

1098 trees

that supply enough oxygen for

550

people annually

502,093 gallons of water.

Enough water to take

29,191 eight-minute showers.

347 million BTUs energy.

Enough energy to power an average American household for

1393 days.

104,251 lbs emissions.

Carbon sequestered by

1209 tree seedlings

grown for 10 years.

30,485 lbs solid waste.

Trash thrown away by

6,627 people in a single day.
Be sure to check out the variety of 30% PCW colored paper offered by Quimby Walstrom to WMSPC members at discounted prices.
To view all your options, Log In at
www.wmspc.org
and click on "complete list of Quimby products."
Green Office Electronics
~~~~~~~~~~~~~~~~~~~~~~~~~~~~~~~~~~~~~~~~~~~~~~~~
Interested in 'greening' your electronic purchasing? Already doing so? Please take a short (10 question) survey on the EPEAT green electronics rating system to help support environmental purchasing of electronics.
In observation of this season of giving, they'll enter all completed survey respondents' names into a drawing for a $25 donation to a charity of your choice. Click this link to start the survey, which shouldn't take more than 10-15 minutes of your time:
http://www.zoomerang.com/Survey/?p=WEB229ZW5MY8RX
Christmas Light Recycling
~~~~~~~~~~~~~~~~~~~~~~~~~~~~~~~~~~~~~~~~~~~~~~~~
GOT BURNED OUT STRINGS OF CHRISTMAS LIGHTS?

Consider donating them to the Metal Recycle Ministry of 1st Christian Reformed Church!

For free for free pick-up or drop-off information, contact the church office:
616-842-6370 or 1stcrcgh@tds.net.

The Metal Recycle Ministry also takes: metal posts, exercise equipment, door springs, old grills, vacuum cleaners, metal filing cabinets and desks, broken appliances, pumps, electrical cords & wire including Christmas lights, motors, brass and copper parts, aluminum screens and siding, wire shelves, and much, much more!

(All proceeds support the ministries of the church.)


WMSPC in the News

~~~~~~~~~~~~~~~~~~~~~~~~~~~~~~~~~~~~~~~~~~~~~~~~

Case Study

- The Responsible Purchasing Network has highlighted WMSPC's work of getting its members high quality, environmentally superior paper at competitive prices. To download the article, please visit WMSPC in the news.

Contact Information

~~~~~~~~~~~~~~~~~~~~~~~~~~~~~~~~~~~~~~~~~~~~~~~~

Paula Levin
WMSPC Administrator
plevin@delta-institute.org
312-554-0900 x17
www.wmspc.org


~~~~~~~~~~~~~~~~~~~~~~~~~~~~~~~~~~~~~~~~~~~~~~~~
The West Michigan Sustainable Purchasing Consortium (WMSPC) is committed to developing and providing access to professional procurement contracts that support sustainable purchasing in the West Michigan community. Key goals of the WMSPC, particularly for the lower Grand River watershed area, include improving regional environmental quality and stewardship, growing local economies, and increasing social responsibility.